Shielding Your Craft: The Essential Guide to Carpentry Business Insurance
Carpentry is a skilled trade that requires precise workmanship, attention to detail, and a well-stocked tool kit. As a carpenter, you know that each project requires careful planning and execution. However, even careful planning and precise work can sometimes lead to accidents. Insurance is a crucial part of protecting your business and assets. In this blog post, we'll discuss the importance of carpenters insurance and the different types of coverage available.
What is carpenter's insurance?
Carpenter's insurance is a specialized type designed to meet the unique needs of contractors who work in carpentry. The policy can provide financial protection in case of property damage, injury, or other risks associated with running a carpentry business.
What are the different types of coverage you may need?
Different types of insurance coverage can specifically meet unique risks as a carpenter. These coverages include commercial property coverage, general liability insurance, worker's compensation insurance, commercial auto insurance, and professional liability insurance.
Liability Insurance 
Carpentry work often involves working with heavy machinery and tools, which can be risky. A mistake can cause property damage, injury to a third party, or even death. Liability insurance protects you from lawsuits and claims filed against you by third parties. This includes coverage against property damage, bodily injury, and medical expenses. Without liability insurance, a single lawsuit can put your business at risk of bankruptcy.
Property Insurance
Your business property, such as your tools, equipment, and materials, is crucial. However, they can get damaged, stolen, or lost. Property insurance provides coverage for damages to your business property. It also covers the cost of replacing lost or stolen items. Therefore, it is essential to have property insurance to protect your assets from unforeseen events.
Business Interruption Insurance
Carpentry work can be affected by natural disasters, such as floods, fires, or hurricanes. These events can cause severe damage to your business, resulting in a halt to your operations. Business interruption insurance covers lost income due to the cessation of business operations. Therefore, it lets you recover financially and resume your business activities immediately.
What is commercial property coverage?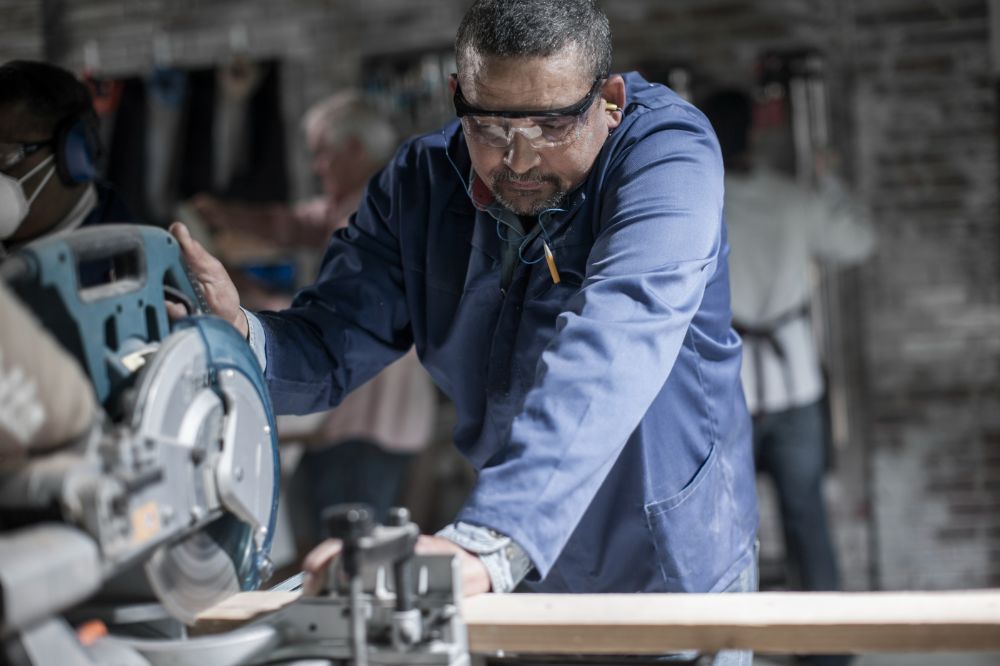 If you own a carpentry business, you will likely own a workspace where you store your tools and materials. Commercial property coverage can help protect your assets from damage or loss due to theft, fire, or other covered events.
Conclusion
Running a carpentry business comes with great responsibility and risks. From tools and materials to the workers and equipment used in projects, carpenter's insurance can protect your business against various threats. While insurance may seem high, the cost of not having the right coverage can be much higher. To best assess your carpenter's insurance needs, work with an experienced insurance agent who can help you choose the right coverage for your unique business needs.
Frequently Asked Questions about Carpentry Business Insurance
Can I customise my carpenter's insurance policy based on specific business needs?
Absolutely. Insurance policies can often be tailored to fit the unique requirements of your carpentry business. Consult with your insurance agent or broker for personalised guidance.
Are subcontractors covered under my carpenter's insurance?
Typically, subcontractors need to have their own insurance coverage. However, you can sometimes include them under certain conditions in your policy. It's essential to discuss this with your insurance provider to ensure everyone is adequately protected.
Are there any discounts available for maintaining a safe workspace or having a clean claims history?
Many insurance providers offer discounts for businesses that implement safety measures or have a low or no-claim history. Discuss potential discounts with your broker or agent.
What happens if a natural disaster destroys my workshop and I cannot operate for months?
Business interruption insurance is designed to cover lost income due to unforeseen events that halt business operations. This means you'd be compensated for a specified period until you can get back on your feet.
Can I combine different insurance policies into a package to save on premiums?
Yes, bundling multiple insurance coverages can often result in discounted premiums. Discuss package options with your insurance broker to see how much you can save.
What if my business operates in multiple locations or I travel for work frequently?
Ensure your coverage is broad enough to include all areas where you operate. Some policies may have geographical restrictions, so always clarify with your insurance provider.